Cryotech Responsible Development
Sustainability Mission:
To serve as a leading manufacturer of environmentally compatible deicing/anti-icing products for airside and pavement use as well as industrial and new business development opportunities that will benefit and protect customers, employees, and stakeholders in a socially, environmentally, and ethically responsible manner.
Environment:
Environmental stewardship is a core value at Cryotech Deicing Technology. Cryotech's Environmental Management System has been certified to ISO 14001-2015 standards. The standards require regulatory compliance as well as continuous improvement with regard to the company's environmental aspects. Significant environmental aspects have been identified with monitoring and measurement systems initiated to quantify these aspects improve results year after year.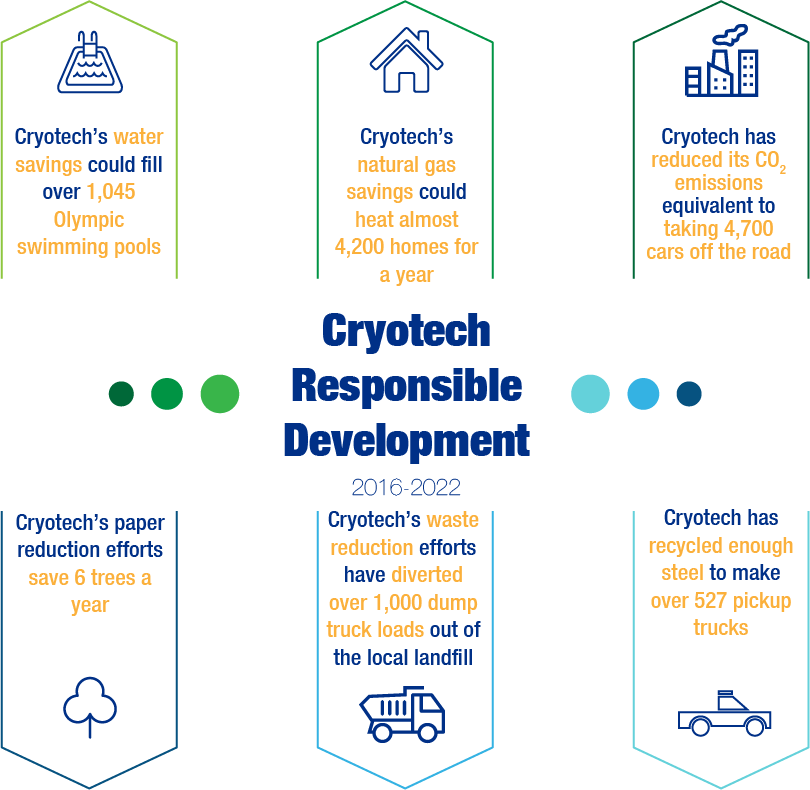 People:
The commitment and promotion of safety and health of employees, visitors, and communities is integrated into Cryotech's mission. Ensuring that all operations within Cryotech are conducted within applicable EH&S laws and regulations, employees are responsible for attending EH&S training as necessary for their job titles and duties. Employees are offered opportunities for health, wellness, professional development, and team engagement activities through Cryotech and General Atomics programs.
Cryotech strives to be a good neighbor and a good corporate citizen. Employees participate in community events and facilitate donations to many local and national organizations, often times partnering the event or donation opportunity with a team engagement activity.
Business:
Rooted in ethics, Cryotech strives to make sound business decisions with consideration of the long-term impacts. Through continual investment in people, products and the Iowa property, Cryotech has grown exponentially since 1992. The desire to maintain a profitable and enduring business guides day-to-day operations.