Defense Logistics Agency Awards Outstanding Readiness Support Award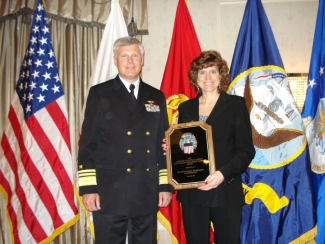 Ann Wehner, Cryotech ADF Manager accepts the award presented by Vice Admiral Alan Thompson, Director of the Defense Logistics Agency


FORT MADISON, Iowa, January 28, 2009.
Cryotech Deicing Technology was awarded the Outstanding Readiness Support for Large Business Award by the U.S. Department of Defense's Defense Logistics Agency. This award goes to businesses that have provided extraordinary customer support, service or product during a crisis situation and have demonstrated overall excellence in superior product quality, on-time delivery, superior customer service, reliability, dependability, consistency, and accuracy. Industry representatives and DLA customers were recognized in seven categories: Vendor Excellence, Innovative Business Performer of the Year, New DLA Contractor of the Year, Outstanding Readiness Support, Outstanding AbilityOne Program Vendor, Customer of the Year, and the Commander's Choice Award.Cryotech was nominated for the Outstanding Readiness Support Award by the Defense Supply Center in Richmond, VA.
During the winter season for 2008-2009, the deicing industry experienced an unprecedented setback when it was determined that due to a shortage of raw materials, liquid potassium acetate runway deicer would be in limited supply or not available. Liquid potassium acetate is the world's leading runway deicer and the shortage of a certified runway deicer would greatly impact airfield operations at civilian and military airports.
Companies across North America allocated the potassium acetate they had available and the Federal Aviation Administration issued statements urging airports to prepare for a season without this necessary product. In parallel, Cryotech Deicing Technology certified two new liquid runway deicers, Cryotech NX360™ and Cryotech XT360® to assist in alleviating the shortage. Neither product utilized potassium acetate but instead relied on Susterra®, a bio-based material developed by Dupont, Tate & Lyle Bio-Products.
Cryotech used its already extensive knowledge of Susterra®, built throughout the development of Cryotech BX36® an existing Susterra based product, to expedite R&D and launch these two new products to the industry. Both products received AMS certification and were successfully used by civilian and military airports, leading to the DLA nomination and subsequent recognition of Outstanding Readiness Support.
Cryotech Deicing Technology is a division of General Atomics International Services Corporation, a San Diego based company specializing in energy-related research and product development. Cryotech manufactures and markets environmentally compatible acetate-based highway, commercial, and airport runway deicers, as well as glycol-based aircraft deicers. Each is considered safe for the environment because they readily biodegrade and exhibit low toxicity to vegetation and aquatic life.
For more information contact:
Benjamin Gulick
Marketing Coordinator
Cryotech Deicing Technology
319)372-6012